We Create a Customised Solution for You
Whether it's a spreadsheet solution or a fully automated system, our goal is to listen to your requirements and create custom solutions that are a powerhouse of efficiency. We create easy to use templates or automated and time efficient solutions to collect and analyse data and produce multiple reports and documents.
Feeling overwhelmed trying to manage your financial data and business documents?
Imagine how you would feel if you could simplify, automate and analyse your processes at the click of a button?
Feel like you're sinking from the sheer volume of work involved when copying and pasting from one file to another?
Do you often need to create multiple documents, i.e. contracts, compliance documents, invoices or financial reports and then convert these to PDFs?
You may be thinking, "there must be a quicker way"… there is!
Tailor-made Microsoft Office Solutions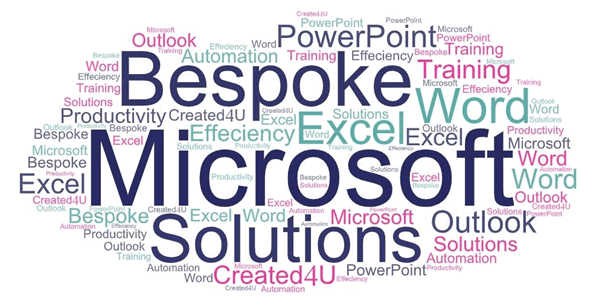 Let us help you get the most out your Office 365 investment
Our bespoke solutions are code driven and mostly built in Excel, using formula and the built-in programming language, Visual Basic for Applications.
We help you take full advantage of Excel's huge potential, which includes integration with Outlook and Word to streamline your processes so you can get the results you want quickly.
Our solutions are designed and developed to your exact specifications to improve the way you drive and analyse your data. We build your bespoke solution to automate tedious and time-consuming tasks, business processes and document creation.
Benefits of our bespoke solutions:
User-friendly dashboards for easy navigation and document automation
Improved analysis of raw data and automated dynamic reports
Streamlined processes, including integration with other applications
One-off problem solving to help you enhance key business activities



OUR PROCESS
The key to a successful project is ensuring there's a solid understanding of the requirements, challenges and potential difficulties. Initially, there will be some fact-finding and discussion with you to help us provide the best possible solution for your business. Ultimately, our aim is to save you time.
It's important to us to collaborate with our clients on projects. We are experts in providing bespoke solutions using Office 365 applications, but you're the expert in your industry - you know your organisation better than we ever could.
As no two projects are the same, the information below and our case studies should give you a good overview of our approach. The steps below also show how we tend to work with our clients, who are looking to get more from their Office 365 applications.

Enquiry
The foundation for a successful project is the initial consultation. This gives us the opportunity to understand your requirements and the bigger business picture.

Consultation
After an initial discussion, we'll send over a project specification to clarify what we believe you're trying to achieve. At this point, anything can be revised as needed.

Quotation
Once the specification is agreed, we'll provide you with a quotation and an estimated delivery date. There is no obligation to continue at this point.

Solution
There's not usually a 'big reveal' as it's important that the perfect solution is being created. We begin by sending interim deliverables for you to review to ensure your expectations are aligned and any details can then be clarified, where needed.

Delivery
The final step is delivery of the completed project. In most cases, everything works perfectly first time, but we're always happy to fix any bugs or minor issues at no extra cost.
Find out how we can transform your business processes:
Email: c.watson@smeofficesupport.co.uk
Mob: 07787528287